Julie Esther Host
1965 - 2005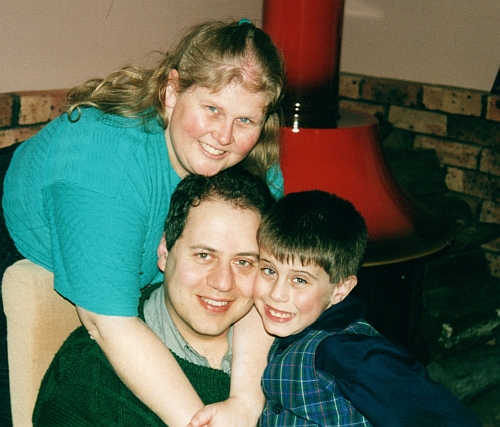 I was faithfully and lovingly married to Julie for nineteen and a half years, before her life was taken suddenly and very unexpectedly by a double cerebral hemorrhage.
Medically, everything that could have been done was done correctly and quickly, but it was too late.
The period following her death was worse than I could have ever imagined it would be. I survived only because of God's love poured out through my family, friends and neighbours. I remain very grateful for their emotional and practical support.
Julie lived her life in service to others, and her hands were rarely idle: knitting outfits for babies, cooking meals for people in need, whatever. She was active in service at the church and at school.
She will continue to be missed and will be fondly remembered by all who knew her.
---
See the Eulogy that was read by Andrew at Julie's memorial service.
---
Julie donated her organs.
Five people have benefited from Julie's donation, some of whom would not be alive without her.
A double lung recipient is alive today because of Julie.
Someone else is living because they received Julie's heart.
Two people were able to leave a hospital free of the constraints of regular dialysis because they were able to receive Julie's kidneys.
Someone today can see because they were able to receive one of Julie's corneas.
Your organs are no use to you when you've died. Don't waste your organs. You could be the reason that someone else lives. Please consider registering your consent on Australia's official organ donor registry. Go to the web site for Donate Life, donatelife.gov.au.
1. Decide to donate your organs.
2. Sign up for the Australian Organ Donor Registry.
3. Talk to your family and friends about your decision.
---